It is time for me to share some things I am working on or plan on doing:
1. Today
Teresa Collins Designs
released
Notations 12x12
today. It is the most amazing collection I have played with in a while.
The Notations kit was such a big hit at CHA she decided to do a 12x 12 version to enhance the kit. I love that you can use both the kit an papers to make your layouts. And on Teresa's blog if you leave a comment on her blog you will be eligible to win this collection. Click
HERE
to enter.
2. I plan on making time for myself. I have been working so much I need to do things for ME. So... I plan on taking this class.
Life Journaling - online art Journaling Class from www. thepaperlife.com
. Amy Coon is such a great inspiration and has really tapped into something that will resonate with crafters. I have always wanted to work on my own art journal but never had the time. Well the time is NOW. I want to take this journey with Amy as our guide. SO who is with me? Sign-ups are soon (ha..April 20....MY BIRTHDAY) SO mark your calendars and we can take this journey together.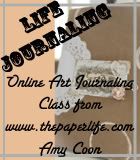 3. So I have a fairly new toy...
I can not wait to show you some of my creations with the
Teresa Collins Stampmaker
. The possibilities are endless with this machine. I have been making stamps all afternoon so I can play later.
Sooo..... I am off to go create!
Have a good one!